Alexander Selker, M.Sc.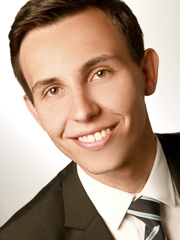 Photo: ci
External doctoral researcher
Address
Universität Hamburg
Professur für Marketing & Customer Insight
Moorweidenstraße 18
20148 Hamburg
Contact
Fax: +49 40 42838 8743
Alexander Selker is an external PhD student at the Chair of Marketing & Customer Insight at the University of Hamburg. From 2010 to 2017, he studied Business Administration in the same university's Bachelor and Master programs. In addition to focusing on marketing, he has also specialized in technology and innovation management by attending respective courses at Hamburg's Helmut Schmidt University and Shanghai's Tongji University.
During most of his studies, he supported the scientific projects at the Chair of Marketing & Customer Insight as a student assistant. In this function, as well as in his two final theses, he focused his work on issues in the field of automotive marketing.
Moreover, he applied his theoretical knowledge as an intern in the automotive industry in both China and the US.
Since 2018, he has been working as a doctoral candidate at Volkswagen AG in Wolfsburg. In addition to his research projects concerning the perception of product designs, he works on the implementation of various market research studies, in particular car clinics.