Jasper Schwenzow, M.Sc.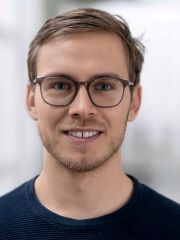 Photo: ci
Research associate
Address
Universität Hamburg
Professur für Marketing & Customer Insight
Moorweidenstraße 18
20148 Hamburg
Office
Room: 3025
Contact
Fax: +49 40 42838 8743
Since August 01, 2019 Jasper Schwenzow is a research assistant and doctoral candidate at the Chair of Marketing & Customer Insight at the University of Hamburg. After obtaining his bachelor's degree in industrial engineering and management, he studied business administration at the University of Hamburg, majoring in marketing and finance. He graduated with a master's degree in 2017. In his master's thesis at the Chair of Marketing & Branding, he examined the success factors of digital investment consulting (robo-advisors).
Since 2017 he has been working as a consultant for McKinsey & Company in Hamburg, Germany, where he supports clients in their digital transformation and the introduction of new analytical technologies as part of the Digital and Analytics Practice.
His current research interests include algorithms for automated images and video analysis.
Publications
Article:
"Understanding videos at scale: How to extract insights for business research", in: Journal of Business Research, (123), 2020, 367-379 (with Jochen Hartmann, Amos Schikowsky and Mark Heitmann)