Jochen Hartmann, M.Sc.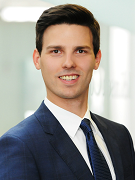 Photo: ci
Research assistant and doctoral candidate
Address
Universität Hamburg
Professur für Marketing & Customer Insight
Moorweidenstraße 18
20148 Hamburg
Office
Room: 3025
Contact
Fax: +49 40 42838 8743
Jochen Hartmann is a research assistant and doctoral candidate at the Institute of Marketing at the University of Hamburg. He studied Business Administration at the WHU - Otto Beisheim School of Management in Vallendar, where he completed his Bachelor's degree in 2012 and his Master's degree in 2014. He completed his semesters abroad in Los Angeles and Bangkok. His studies focused on marketing and entrepreneurship. In his master thesis, he dealt with the influence of network resources on the success of start-ups.
Since 2014, he has been working as a consultant for McKinsey & Company in Hamburg, where he is part of the Marketing & Sales Practice and the EMEA Customer Insights Group. He supports clients in the energy, logistics and fashion industries and specialises in marketing & sales with a special focus on strategic brand management and repositioning.
His current research focuses on the presence of brands in social media.
Publications:
"Comparing automated text classification methods", International Journal of Research in Marketing, 2018 (with Juliana Huppertz, Christina Schamp and Mark Heitmann), Link: https://www.sciencedirect.com/science/article/pii/S0167811618300545  
"The Power of Brand Selfies in Consumer-Generated Brand Images", 2019, available at SSRN: https://papers.ssrn.com/sol3/papers.cfm?abstract_id=3354415 (with Mark Heitmann, Christina Schamp and Oded Netzer)
"More Than a Feeling: Benchmarks for Sentiment Analysis Accuracy", 2020, available at SSRN: https://papers.ssrn.com/sol3/papers.cfm?abstract_id=3489963 (with Mark Heitmann, Christian Siebert and Christina Schamp)
---