Maxine Materne, M.Sc.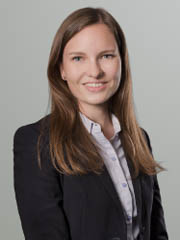 Photo: ci
Research assistant and doctoral candidate
Address
Universität Hamburg
Professur für Marketing & Customer Insight
Moorweidenstraße 18
20148 Hamburg
Office
Room: 3026
Contact
Fax: +49 40 42838 8743
Maxine Materne is a research assistant and doctoral candidate at the Chair of Marketing & Customer Insight at the University of Hamburg. She studied Business Administration at the University of Mannheim, Peking University and the London School of Economics and Political Science (LSE). Between her Bachelor and her Master degrees, she spent a year at Tsinghua University in Beijing to learn Mandarin. During both her undergraduate and graduate degree, she was a teaching assistant for courses on quantitative methods.
She completed her Master's degree in management at the LSE with distinction in autumn 2015. Her thesis investigated the influence of celebrity endorsements on perceptions of brand personality.
At the end of 2015, she joined the management consultancy Berg Lund & Company in Hamburg as a consultant. As part of her project work, she dealt with practical questions related to product redesign and positioning.
Her research deals with consumer decision-making. She is currently investigating which factors contribute to the distribution of online content.
Publications
Journal Articles:
"From Corporate Social Responsibility to Market Demand: The Role of Brand Management", in: Marketing ZFP - Journal of Research and Management, (42:2), 2020 (with Nima Mehrafshan, Alexander Permann and Mark Heitmann),