Ranking of German Professors in Business Administration: Prof. Dr. Stefan Voß is number 9 out of the Top 100
29 January 2019, by Julia Bachale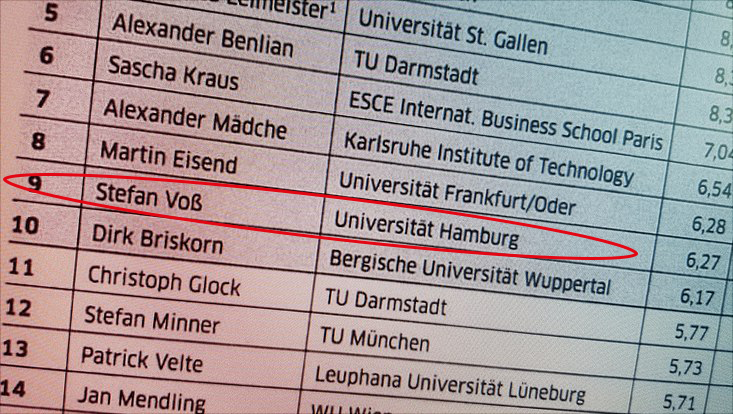 Photo: JB UHH
In the "Ranking of the Top 100 Professors in Business Administration in German-speaking Countries with regards to High-Impact Research  (2014-2018)"  and in the "Ranking of Research Lifetime Achievement of B.A. Professors" of the German journal "WirtschaftsWoche"  Prof. Dr. Stefan Voß has reached again the Top 10 and occupies with 6,27 points and 15,90 points, respectively position no. 9.
The ranking was developed by the Research Institute KOF of ETH Zürich and the Düsseldorf Institute for Competition Economics (DICE)  and is based on the amount of publications in renowned - this means by the journal ranking of the  German Academic Association for Business Research (VHB) ranked - journals. The main data source for the researchers' publications was the bibliometric web portal Forschungsmonitoring.org.
For further information, please read the 4th January-ed. of the "Wirtschaftswoche", 2019.
---