Once again IWI students win the PEMA Student Challenge!
14 June 2018, by Julia Bachale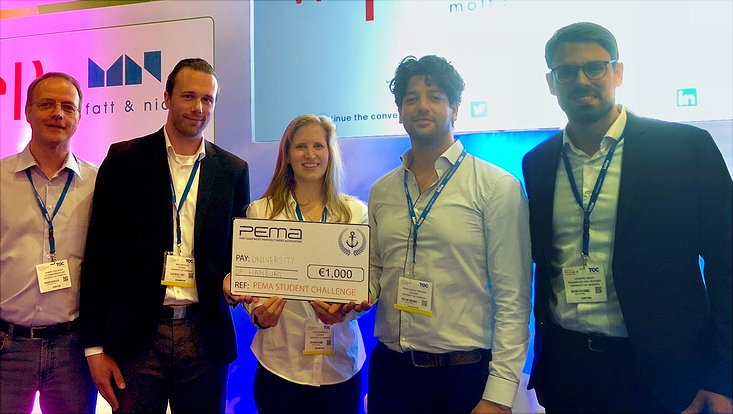 Photo: LH UHH
As before in 2014, 2015 and 2017 a group of students, supervised by lecturers of the Institute of Information Systems, wins the PEMA Student Challenge. The prize for innovative optimization ideas in the maritime sector was again awarded during the  TOC Europe Conference, a conference about emerging technologies in ports, onboard of ships and at container terminals; this year's edition took place in Rotterdam.
The proud winners, Vivien Gradenwitz, Mike Röseler und Arian Tavassoli, gave a presentation which contributed successfully to the challenge topic  "The Environmental Challenge and Productivity at Ports". With their presentation they successfully asserted themselves against student groups of the Blekinge Institute of Technology and, again, of the Hamburg University of Technology (TUHH).
As other groups in the previous years, the IWI student group was supervised and supported by  Dr. Leonard Heilig and Dr. Robert Stahlbock.
The IWI expresses its warmest congratulations to its students for this 4th PEMA award!
---