Students of IWI visit PEMA AGM 2018 in Bilbao
14 March 2018, by Giselind Werner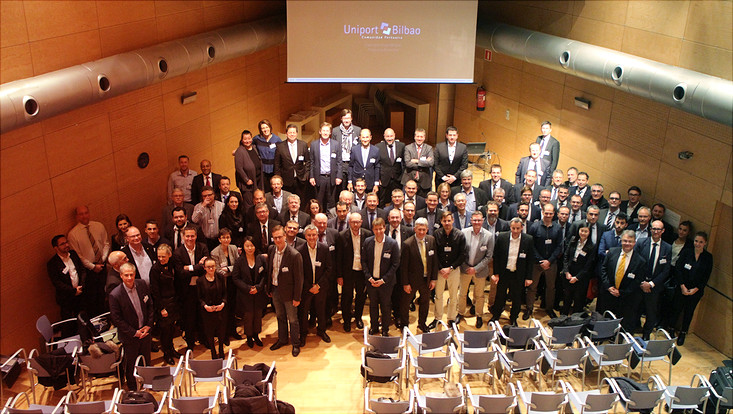 Photo: PEMA
By winning this year's PEMA Student Challenge with the topic "Digital Transformation for Ports and Terminals", the group of IWI master students, including Philipp Doose, Johanna Klaßen, Carla Schäkel and Christopher Werning, were given the opportunity to attend the 2018 PEMA Annual General Meeting (AGM) in Bilbao, Spain. The students seized the opportunity and flew shortly before their next exam phase to Bilbao. Unfortunately, Bernd Strehl could not participate in the AGM due to scheduling overlaps.
The event lasted for three days from January 30-February 1, and aimed to promote the exchange of PEMA members and the work of the individual committees. The first day of the event was reserved for networking between members and guests. At the beginning, PEMA invited all attendees to a two-hour boat trip through the port of Bilbao. Afterwards, participants joined a guided tour through the Maritime Museum. The second day of the event was firstly reserved for PEMA's internal matters, such as new board elections and the presentation of the annual report. Since these agenda items are relevant only to PEMA members, the group of students decided to spend the morning at the nearby Guggenheim Museum of Modern Art. After this, the presentations of the PEMA internal and external speakers began on current topics in port logistics. The first part dealt with the topic "Regulatory update and port future" including interesting lectures, such as the current challenges in container logistics and asset management in Port Terminals 4.0. Subsequently, the second part on "operator testimonies and supply chain challenges" began. The final words the afternoon were given by Felipe Jaber Bringas, President of Uniport Bilbao and Asier Atutxa, Chairman of the Board of Port Authority of Bilbao. For the evening, the emphasis was again set on networking  at a joint Basque dinner. The last day of the event was all about the work within the individual committees. The latter have the goal of jointly developing standards and recognizing challenges in sub-branches of the industry.
In conclusion, the students' participation in PEMA AGM 2018 was a complete success. It was easy for them to make contacts with major companies in the port sector and all of them are already looking forward to TOC Europe in Rotterdam to maintain these contacts. This expo is the next big meeting of the industry with many exhibitors from  business and practice-related presenttions. In addition, the expo will present the final of this year's PEMA Student Challenge, which deals with the topic "The environmental challenge and productivity at ports". Students who wish to participate in the competition on behalf of the University and the IWI are welcome to contact Dr. Robert Stahlbock or Dr. Leonard Heilig.
---