Carolin Haiduk, M. Sc.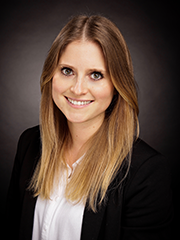 Photo: privat
Research Assistant
DFG Research Group
Address
Universität Hamburg
Faculty of Business Administration (Hamburg Business School)
Professur für Marketing & Branding
Moorweidenstraße 18, 4th floor
20148 Hamburg
Office
Room: 4011
Contact
Further information
Research interests
New Product Buzz: Measurement, mode of action and influence of dynamic, collective anticipation in digital social media
Teaching
Tutorial to lecture Marketing (B.Sc.) summer term 2019, 2020
Academic background
Since 2018: PhD studies and research assistant, University of Hamburg
2015 – 2018: Studies of Business Administration Master of Science, University of Hamburg
2016 – 2017: Studies abroad at Copenhagen Business School
2011 – 2014: Study of Business Administration Bachelor of Science, Westfälische-Wilhelms University of Münster
Working experience
2016 – 2017: Student Assistant at the Chair of Marketing & Branding
2015: Internship PricewaterhouseCoopers AG, Düsseldorf
2014 – 2015: Internship Otto Group, Hamburg
2013: Internship METRO AG, Düsseldorf

Publications 
Haiduk, C., T. Schreiner, & T. Mandler (2020). On the Evolution of Pre-Release Consumer Buzz and New Product Success. Proceedings of the 49th Annual Conference of the European Marketing Academy, Budapest (Hungary), [no pagination].
Haiduk, C., & T. Mandler (2019). Drivers of Pre-release Consumer Buzz. Proceedings of the 10th Regional Conference of the European Marketing Academy, Saint Petersburg (Russia), [no pagination].
Johnen, M., & C. Haiduk (2018). Will You Stand By Me? - Analyzing The Effectiveness Of Brand Anthropomorphism In The Context Of Consumer Complaints In Social Media. Proceedings of the 47th Annual Conference of the European Marketing Academy, Glasgow (Scotland), [no pagination].