Prof. Dr. Henning Schröder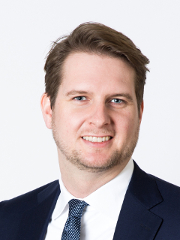 Foto: UHH
Juniorprofessor
Anschrift
Universität Hamburg
Fakultät für Betriebswirtschaft
Juniorprofessur für Corporate Finance
Moorweidenstraße 18
20148 Hamburg
Büro
Moorweidenstraße 18
Raum: Z1038
Sprechzeiten
Mittwoch (zum automatischen Buchungsformular)
Kontakt
About
Henning Schröder is Assitant Professor of Corporate Finance (in German: Juniorprofessor) at the Faculty of Business Administration of the University of Hamburg. His research is located at the intersections of the fields of corporate finance, corporate governance, entrepreneurial/digital finance, sustainable/climate finance, and social finance. He is a research fellow at the Research Center for Maritime Business and serves as vice director of the Hamburg Financial Research Center.  His current work in corporate finance addresses questions on institutional ownership and corporate financial strategy. Other projects in his portfolio focus on latest entrepeneurial finance topics and evaluate financing opportunities for early-stage companies through initial coin offerings and the tokenization of assets, study the impact of institutional investors on climate change risk disclosure, or analyze whether and to which extend social norms affect institutional investment behavior.
Selected Working Papers
Drobetz, W., M. Halling, and H. Schröder, 2020, Corporate life-cycle dynamics of cash holdings, Swedish House of Finance Research Paper No. 15-07, Stockholm School of Economics and University of Hamburg.
Drobetz, W., M. Moenkemeyer, I. Requejo, und H. Schröder, 2020, Social trust and institutional investment biases, Working paper, Universität Hamburg.
---
Kontaktadresse
Schwerpunkt Finance, Banking & Insurance
Moorweidenstraße 18
20148 Hamburg