Carolin Haiduk, M. Sc.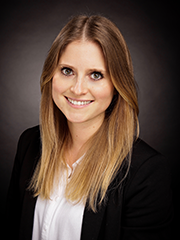 Foto: privat
Wissenschaftliche Mitarbeiterin
Wissenschaftliche Mitarbeiterin der DFG-Forschergruppe
Anschrift
Universität Hamburg
Fakultät für Betriebswirtschaft
Professur für Marketing & Branding
Moorweidenstraße 18, 4. Stock
20148 Hamburg
Büro
Raum: 4021
Kontakt
Weitere Informationen
Forschungsschwerpunkte
New Product Buzz: Messung, Wirkungsweise und Einfluss von dynamischer, kollektiver Antizipation in digitalen sozialen Medien
Akademischer Werdegang
Seit 2018: Promotionsstudium und wissenschaftliche Mitarbeiterin, Universität Hamburg
2015 - 2018: Studium der Betriebswirtschaftslehre Master of Science, Universität Hamburg
2016 - 2017: Auslandsstudium an der Copenhagen Business School
2011 - 2014: Studium der Betriebswirtschaftslehre Bachelor of Science, Westfälische -Wilhelms Universität zu Münster
Praxiserfahrung
2016 - 2017: Studentische Hilfskraft am Lehrstuhl für Marketing & Branding
2015: Praktikum PricewaterhouseCoopers AG, Düsseldorf
2014 - 2015: Praktikum Otto Group, Hamburg
2013: Praktikum METRO AG, Düsseldorf
Veröffentlichungen
Johnen, M., & C. Haiduk (2018). Will You Stand By Me? – Analyzing The Effectiveness Of Brand Anthropomorphism In The Context Of Consumer Complaints In Social Media. Proceedings of the 47th Annual Conference of the European Marketing Academy, Glasgow(Scottland), [no pagination].
---