Prof. Dr. Eva Oppel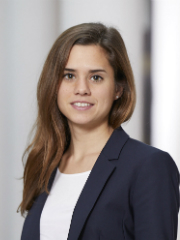 Foto: Eva Oppel
Juniorprofessorin für BWL, insb. Management im Gesundheitswesen
Anschrift
Universität Hamburg
Esplanade 36
20354 Hamburg
Büro
Raum: 4001
Sprechzeiten
Kontakt
Fax: +49 40 42838-8043
Kurzbiografie
Eva Oppel ist seit 2018 Juniorprofessorin für Betriebswirtschaftslehre mit Schwerpunkt Health care Management am Lehrstuhl für Management im Gesundheitswesen an der Universität Hamburg. Weiterhin ist sie wissenschaftliche Mitarbeiterin am Hamburg Center for Health Economics (HCHE). Sie hat von 2007 bis 2013 BWL mit den Schwerpunkten Management im Gesundheitswesen und Personal an der Ludwig-Maximilians-Universität München und der Universität Hamburg studiert. Vor Antritt der Juniorprofessur in 2018, promovierte Oppel am HCHE der Universität Hamburg und forschte im Rahmen eines Fulbright Fellowships an der Northeastern University in Boston, USA. Neben ihrem Hintergrund in der Krankenhausmanagementforschung, forscht Oppel an Projekten der Versorgungsforschung, insbesondere im Bereich neuer Versorgungsformen.
Publikationen
McIntosh N, Gruits P, Oppel E, Shao A. "Built spaces and features associated with user satisfaction in maternity waiting homes in Malawi". Midwifery 62. (2018): S. 96-103.
Oppel EM, Mohr DC. ""Paying it Forward" - The Link between Providers' Civility Climate, Civility towards Patients and Patient Experience Outcomes". Health care management review (2018) Status: In Production
McIntosh N, Oppel EM, Mohr D, Meterko M. "Organizational factors associated with patient care quality in closed ICUs: An explorative study from U.S. Veterans Affairs". American Journal of Critical Care 26(5). (2017): S. 401-407.
Oppel EM, Mohr DC, Benzer JK. "Let's be civil: Elaborating the link between civility climate and hospital performance". Health care management review (2017) online first
Oppel EM, Thiel A, Winter V. "Personalmanagement in der Arzneimittelindustrie". (2017)
Vollständige Publikationsliste
---