This page:UHH > Faculty of Business Administration > Institute of Information Systems > About the Institute > IWI News > 2016 > Research Stay of Prof. Voß and two IWI-members at PUCV in Valparaiso, Chile
Research Stay of Prof. Voß and two IWI-members at PUCV in Valparaiso, Chile
29 December 2016, by Giselind Werner
Prof. Dr. Stefan Voß, Dr. Eduardo Lalla-Ruiz and Frederik Schulte from IWI have been on a reseach stay during Sept 22 and Oct 21, 2016 at the Pontificia Universidad Católica de Valparaíso (PUCV) in Valparaiso, Chile. The faculty of engineering at PUCV took a great interest in our researchers and published an interview with them on their website.
Please find a translated English version below:
Engineering 2030 continues to strengthen links between researchers around the world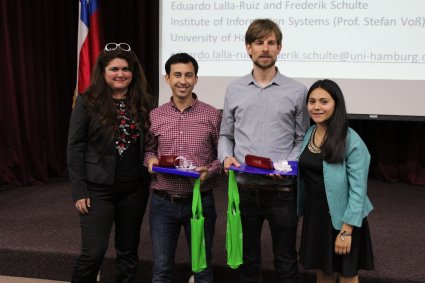 Experts in port logistics from the University of Hamburg visited the School of Transport Engineering at the PUCV (Pontificia Universidad Catolica de Valparaiso) as part of the "International Academic Linking Contest" of the Engineering Project 2030, a project created by the Faculty of Engineering.

A few days ago, the School of Transport Engineering of the PUCV held its annual seminar and, on this occasion, two prominent academics from the University of Hamburg were presented: Eduardo Lalla and Frederik Schulte. The first coming from Tenerife and the second from Hamburg, they are part of the Institute of Information Systems of UHH and have been dedicated to work on improving port logistics.

For some time now, they are carrying out a joint research with Lorena Bearzotti, professor of Transportation Engineering School, who applied for the third call of the "International Academic Linking Contest" at the 2030 Engineering Project. She was able to meet her peers in the field Of study: the national ports.

During the visit of these two researchers, who gave a new insight on local port problems, the seminar "Improving competitiveness through collaboration among the actors in the port logistics chain" was held, in which they documented the most important players in regional maritime transport.

The academics of Hamburg and Professor Bearzotti shared more aspects of their collaborative work and therefore gave answers in a small interview:


What kind of work are they doing?

Eduardo Lalla (E.L.): Frederik Schulte has already been here collaborating with a research group from Valparaiso in the Port of San Antonio, in a collaborative project. This project was about the different parties that make up the truck driver companies in the port which transport containers. The idea of ??us coming here together is to continue with this project and also seeking to integrate it considering all its special requirements for managing events at the port.

Lorena Bearzotti (L.B.): There is a history of collaboration here, first by Professor Vauz, then by Professor José Ceroni, then by Rosa González. I was in the group of Rosa González and there we met and we continue working with the proposal.

Which aspects are prominent about having the opportunity of doing a bilateral research project?

Frederik Schulte (F.S.): Generally, I believe that international collaborations are very important. In 2014, we have, for instance, organized the International Conference of Computational Logistics (ICCL) here to strengthen these relations. I think development in various parts of the world is always a little different, so everyone wins when they come together and work together on projects and this is what we do.

How important is it to be able to generate these alliances?

E.L.: It is fundamental. I come from La Laguna, Tenerife, Frederik comes from Hamburg. Both of our hometowns are port cities where we have similar problems that we have to address and when alliances are made, joint forces are able to respond and to efficiently improve all the processes that are in the terminals, from berth allocation to ships, to container assignments in the yard, to the distribution of tasks to truckers. This provides us and the ports with an enrichment through alliances.

L.B.: The most important aspect of this is to have good practices from other ports, lessons learned from them, the POV from other sides that one can take, adapt and apply in different realities.

E.L.: Because there are problems that we will have in Hamburg that we have already solved and that were not yet solved here or that our colleages here are working on. And there are problems that our colleagues here have worked on and that they have solved. We might be able to implement these solutions vice versa. This generates a synergy, an alliance, projects, bilateral collaborations and enriches both regions.

How can your experience in transportation and logistics be a contribution to the local reality?

F.S.: What I see is the issue of collaboration between truck drivers and that they experience social challenges.There are challenges with collaboration, we have models to integrate these objectives, as social objectives and are able to generate a fair collaboration. Another task is the issue of sustainability which is much more developed in Europe. We have these experiences and want to apply models and solutions here.

E.L.: We come from the Institute of Information Systems at the University of Hamburg, that is to say that our specialty is the management of information systems and optimization throughnew technologies, such as wireless LAN,mobile applications or cloud computing. We want to integrate all these channels in routine tasks that truckers, ships or terminals have. A system in which everyone can share information and is able through this information, to optimize all processes in such a way that, for instance, ships have smaller waiting times, that cranes work more efficienty, that the yard-time of containers is reduced and that truckers are able to pick up containers within their working hours. On the other hand, Frederik is a specialist in collaborations. He is working on providing a strategic collaboration plan for the truckers by using game theory.

L.B.: If we take into account the local reality in the two most important ports of Chile, Valparaiso and San Antonio, we are trying to find solutions to this same problem and the work they do is directly related to our reality.

How do you assess the current status of ports in Chile?

F.S.: We talked about the situation of the ports in Chile and what we believe is that the ports are very different from each other. The situation here in Valparaiso is very different from the one in San Antonio. For example, in Valparaiso there are some advances like the Zeal area only for truckers, but there are also problems because of the lack of space, as I said, the social problems that are important and sustainability issues.

L.B.: These latter are issues that are beginning to appear, rather by social pressure than by a real awareness of the concessionaires.

How important are these collaborations for international research?

E.L: I believe that it is essential that these collaborations exist, not only from the universities of Chile, but also from the Government of Hamburg and from the University of Hamburg, so that we are all able to share our experiences. Through the collaboration and integration of technologies as well as problem solving strategies that we have, we can enrich both ports and address the casuistry found in both San Antonio and Valparaiso as well as in the terminals of the port of Hamburg.

What topics did you address during your Seminar at the School of Transport Engineering?

E.L: We explain from a more academic point of view how we can use what we do in Hamburg to improve all the processes that exist in the terminal to generate enrichment. All ports have a common problem: gaining competitiveness, gaining productivity and visibility and if the port does not provide a quality service to shipping companies, these might choose another terminal as a base of operations, instead of choosing Valparaiso, since that port will offer you cheaper costs, better quality of services, thanks to the information systems and optimization algorithms behind their concepts."