Prof. Dr. Qing Liu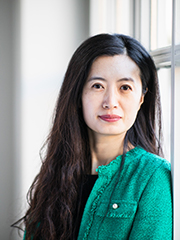 Foto: UHH
Juniorprofessorin
Anschrift
Universität Hamburg
Fakultät für Betriebswirtschaft
Maritime Economics
Maritime Wirtschaft
Moorweidenstraße 18
20148 Hamburg
Büro
Raum: 1021.1
Kontakt
Short biography
Prof. Dr. Qing Liu has been the Chair and juniorprofessor for Maritime Economics at the University of Hamburg since May 2016. Prior to her appointment to the University of Hamburg, she has been the Director of Transportation Economics/Transportation Economist at Nick J. Rahall Transportation Institute (RTI) in West Virginia, U.S. for two years, and before that a Research Assistant at the Upper Great Plains Transportation Institute (UGPTI) in North Dakota, U.S. After working on various topics of transportation and logistics in the early years, she determined to focus on Maritime Economics and Global Logistics, for which her passion has lasted over ten years since she first studied in International Shipping Management for her bachelor study in Dalian Maritime University in China.
Prof. Liu had worked closely with United States federal agencies and state governments in the past, and obtained external research funding and led transportation economics studies as the Principal Investigator for multiple projects. Her successful experiences in working with public agencies, private practitioners, and international collaborators, as well as her in-depth knowledge and research skills in maritime shipping industry are the core elements that she brings into the Maritime Economics Research Center (MERC) as the director. In the Mission Statement of the center, she shares her vision, strategic plan, and passion, about the maritime shipping industry and maritime economics research. And she is looking forward to leading the center to become a local think-tank in the field of maritime economics and an internationally recognized research center to facilitate knowledge transfer, research collaboration, and industry training and consulting.
Dr. Liu obtained her doctorate degree in Transportation & Logistics at North Dakota State University, U.S. under the supervision of Dr. William Wilson. Since 2012, Dr. Qing Liu has been a committee member of the Standing Committee on Transportation and Economics Development (ADD10) for the U.S. Transportation Research Board (TRB), and is currently serving on the Europe Board of Directors for the Chinese Oversees Transportation Association (COTA).
Research interests
Global maritime shipping industry
Port competition and collaboration
Optimal routing for global logistics
Multimodal transportation network
Inland waterway shipping
Green transportation
Market power analysis of the maritime shipping
Non-cooperative game theory, cooperative game theory, operations research, statistics analysis, and GIS
Selected publications and working papers
Public and professional presentations
GIGA Forum 2019, German Institute of Global and Area Studies: Maritime Politics in the "Indo-Pacific": What Future for the Rules-Based Order? (Panel presentation and discussion), September 18, 2019, Hamburg https://www.giga-hamburg.de/en/event/maritime-politics-in-the-indo-pacific-what-future-for-the-rules-based-order
Maritimer Innovationsdialog, Handelskammer Hamburg 2019: China Maritime Economy, 19 June 2019, Hamburg, Germany
Baltic Exchange and ICS Lecture 2019: China and the OBOR Initiative, 29 May 2019, London
IAME conference 2019: Traffic simulation of the effects of Brexit on the Port of Calais, 25-28 June 2019, Athens, Greece
Hamburg Maritime Management Symposium 2018: China's One Belt and One Road: Implications for China-Germany logistics route competition, November 8, 2018, Hamburg
World Transport Convention 2018: Ship Pooling and Market Power in the Containership Charter Market, 18-21 June, Beijing
Hamburg Maritime Management Symposium 2017: Polarization in the Containership Charter Market: A Ship Pooling Analysis, at. November 9, 2017, Hamburg
IAME conference 2017: Pricing Strategies for Multiple Port Competition and Cooperation (E, ID.318), 27-30 June 2017, Kyoto, Japan
Professional memberships
Member of Standing Committee on the U.S. Transportation and Economics Development (ADD10), Transportation Research Board (TRB) (2012-2018)
Member of Europe Board of Directors for the Chinese Oversees Transportation Association (COTA)
Co-chair of Technology Committee for Port Competition and Collaboration, Water Transportation Section, World Transportation Convention (2017-2019)