Karina Vida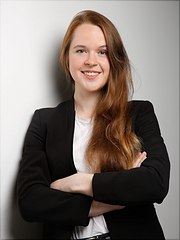 Doctorate Researcher
Data Science
Address
Universität Hamburg
Faculty of Business Administration
Data Science
Data Science
Von-Melle-Park 5
20146 Hamburg
Office
Room: 3087
Office hours
After prior registration
Contact
Brief Bio
Karina Vida (she/her) is a Doctorate Researcher in the Data Science group at the University of Hamburg.
Previously, she studied computer science and philosophy of technology in a double degree program at the Technical University of Darmstadt (Germany). In her master's thesis, she investigated the ethical challenges facing developers and regulators of affectively-aware robots and analyzed several frameworks that specialized in using ethical AI. During her studies, she worked as a teaching assistant at the Technical University of Darmstadt and as a working student at IBM.
Research Interests
My research interests focus on the interface between philosophy and artificial intelligence. In particular, I am interested in the social implications of using AI models and approaches to using AI safely and responsibly for the social good. Currently, I am researching "morality" in natural language processing.
My current research interests include the following:
AI Safety
Ethical AI 
Natural Language Processing
Multimodality
Responsible AI
BBC6335
bookanthology/monograph,bookanthology/postdoctoraldissertation,bookanthology/scholarlyeditionsandencyclopedia,bookanthology/specialjournal,contributiontobookanthology/chapter,contributiontobookanthology/conference,contributiontobookanthology/conferencecontrib_articleforconference
en_GB
de_DE