DFG Research Group publishes first "Social Media & Society Report 2019"
26 August 2019, by Alegra Kaczinski
Münster and Hamburg
The DFG research group has published a scientific report on the usage of social media in Germany and its implications for society. The "Social Media & Society Report 2019", which is co-authored by Alegra Kaczinski, Thorsten Hennig-Thurau, and Henrik Sattler, is part of a long-term research project on the interplay of social media use and societal developments.
The report provides detailed insights on how social media is used in Germany and how its usage has changed over the past five year. Its major focus is on the relationships of this usage with people's personal and society's well-being. The authors uncover multiple linkages: For example, a high daily dosage of social media is associated with higher individual levels of stress and a lower satisfaction with life in general. People's belief in conspiracy theories is higher when daily usage supersedes the two-hour mark. News consumption via social media is linked to stronger radical beliefs and a more aggressive attitude – both of these tendencies people are more likely to express on social media platforms. Also, the authors reveal empirical insights into the so-called "filter bubble" theory: a social media newsfeed, displaying homogeneous attitudes and opinions, is related to more radical attitudes, as argued by the theory's proponents. But the same is true for a heterogeneous newsfeed, containing a wide variety of beliefs and positions!
The report is based on a survey of more than 2,000 participants and is representative of the German population. A digital version of the report is available on the homepage of the Marketing Center Münster. A limited number of printed copies are also available; they can be requested via email(Imm"AT"wiwi-uni-muenster.de).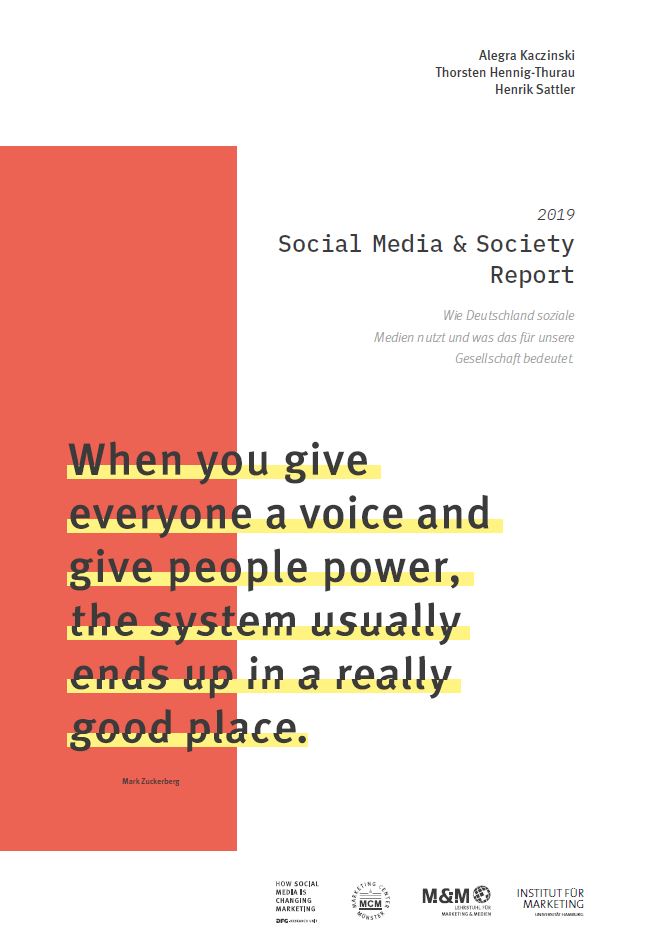 The report is part of the research group's main project.
Kaczinski, A., Hennig-Thurau, T., & Sattler, H. (2019). Social Media & Society Report 2019. Wie Deutschland soziale Medien nutzt und was das für unsere Gesellschaft bedeutet. Münster/Hamburg.