Incoming Students
Welcome to our beautiful city and to Universität Hamburg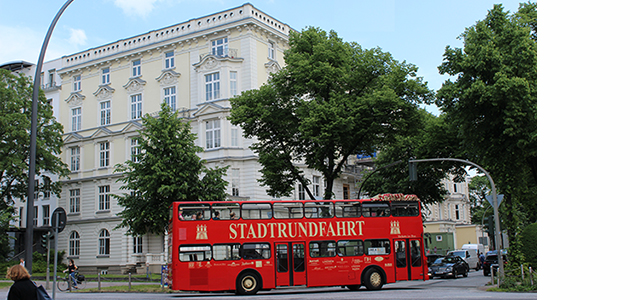 Your degree program participates in the ERASMUS Cooperation or another partnership with a degree program in the Faculty of Business Administration (Hamburg Business School)? You would like to study with us for 1 or 2 semesters?
The general information gives you a quick overview and you find courses in the course catalog (in German only). We have listed courses taught in English by our Faculty below.
Below you find numerous tips to make your stay in Hamburg and studying at our University easier and more fun. Enjoy your time here! We hope that Hamburg becomes a second home.
Application
The International Office handles applications for all bachelor's and master's degree programs. If your home university has organized a student exchange for you, we will get in touch with you by email. Our email will tell you everything you need to know about your application and the documents you need to submit.
Please wait until you receive the instruction email before you register on STiNE.
Semester Contribution
All students must pay a semester contribution each semester. The semester contribution is not tuition. It is made up of fees for various institutions and amounts to between €250 and €350. It includes a semester public transport pass that is valid for the entire area served by the Hamburg Public Transport Association (HVV).
If you are an incoming student new to Hamburg, don't worry yet about the semester contribution. You will receive the information you need at the orientation seminar.
Contact the International office for a detailed breakdown of fees and payment information.
Wohnen
Affordable rooms in Hamburg can be few and far between, especially at the beginning of each new semester. We have compiled the following list to give you a head start:
Studierendenwerk Hamburg: Dormitory accommodation
Dormitory rooms are available from the Studierendenwerk every semester. You can rent a room for a single semester or a longer period of time. Please consult the Studierendenwerk website for further information on renting a room. If you have any remaining questions or require assistance, the International Office will be happy to help.
Dormitories run by other organizations
If no rooms are available from the Studierendenwerk or you would like to search further afield, you can also apply to other dormitories run by non-profit organizations. The Studierendenwerk has compiled a list of available dormitories.
Private accommodation
Many students in Germany choose to share an apartment (known as a WG, the abbreviation of Wohngemeinschaft). When they leave for their own semester(s) abroad, students often sublet their furnished rooms for the time they are away. Adverts for privately rented rooms are published on the following websites:
Please note: New tenants in shared apartments normally do not pay any money before arriving at the accommodation or signing a sublet agreement. Please be cautious if somebody asks you to pay in advance.
Welcome Session
Please find informationen about the academic office, your personal curriculum and registration as well as the transcript  of records in the  presentation [PPTX] of the study orientation session.
Additionally you find here the application form for transcript of records [PDF], which is prerequisite for obtaining a transcript of records by the University of Hamburg.
Contact
Academic Office (Erasmus / incoming students)
International Office