Faculty Advisory Board holds inaugural meeting
14 September 2022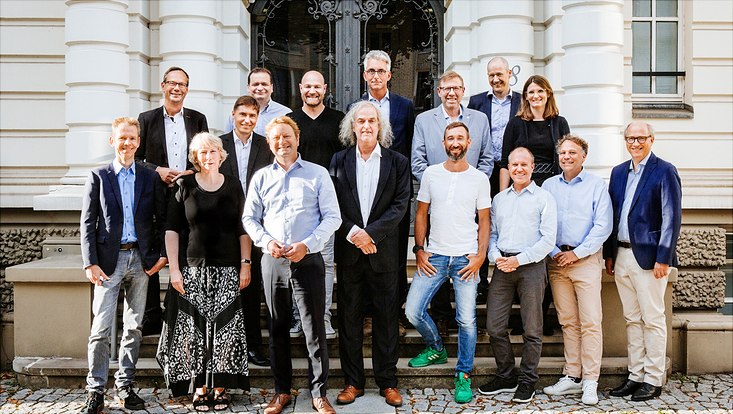 Photo: Lichtliebe, Volksdorf
The Faculty's newly founded Advisory Board met for the first time on 1 September 2022. Established to advise the Faculty on strategy, the board met with the Faculty's Management Board and Advisory Professors for Accreditation, Equal Opportunities, Internationalization, and Transfer.
Faculty Dean Prof. Dr. Stefan Voß opened the session with the words: "We've developed a good idea of who we are and are currently in the process of planning where we want to go. But how are we seen from the outside? What expectations are placed on us, and what opportunities are we overlooking? That's why you are here!"
Through the presentation, it became clear to the Advisory Board that the Faculty – with its research focus and transfer activities that are closely linked to City of Hamburg clusters – is in an excellent strategic starting position. The board provided valuable feedback and ideas in formulating goals and strategic direction. "The members asked us vital questions – and we need to answer them more clearly and communicate better with the outside world. The Advisory Board gave us impetus to think new, big, and disruptive. The meeting was indeed inspiring and serves as a powerful motivation to continue the internal strategy process," summarized the Dean.
The Faculty is now considering the Advisory Board's feedback before continuing the dialog. "The feedback on our ideas from external experts, who do not only come from universities, is exactly what we need to move along the path toward EQUIS accreditation," added Prof. Dr. Voß.
Photo: 
Back (left to right): Prof. Dr. Henrik Sattler, Dr. Ferdinand Wenzlaff, Prof. Dr. Martin Spindler, Ansgar Hoelscher, Prof. Dr. Peter Verhoef, Dr. Wilhelm Bielert, Dr. Jens-Ragnar Martinen, Prof. Dr. Petra Steinorth
Front row: Dr. Jesko Perrey, Prof. Dr. Karen Gedenk, Prof. Dr. Michel Clement, Prof. Dr. Stefan Voß, Daniel Krauss, Dirk Freise, Martin Ostermayer, Prof. Dr. Wolfgang Drobetz